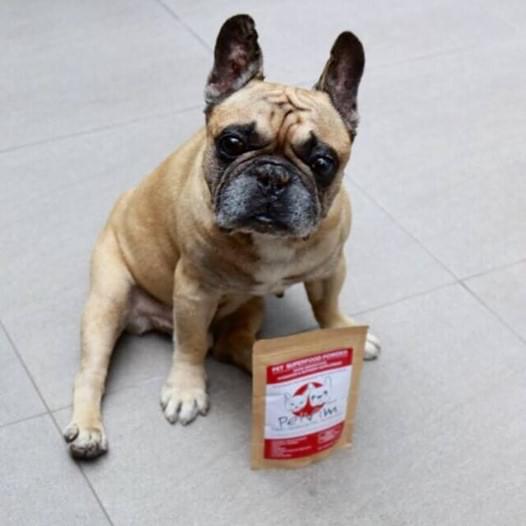 How I Saved My Frenchie From Euthanasia & Created PetVim
On 15 September 2003, I brought a 10-week French Bulldog puppy home. I named him Hugo and he quickly became the love of my life.
10 years later, I found Hugo collapsed on the lawn one hot summer's day. I rushed him to a local Vet who told me he was suffering from acute heart failure. He put him on a drip, but after 3 hours without improvement, he recommended euthanasia.
I was devastated. I couldn't bare the thought of my life without my baby. I was not convinced. After all, even Vets can get it wrong, can't they? My gut said Hugo was not in acute heart failure but dehydrated, with low blood pressure, and lacking electrolytes. l said NO. In the car home I decided that I would try to make him well and nurse him back to health in the same way I knew to treat myself for such conditions.
I started syringe feeding him plant-based superfood powders mixed into Coconut Water- Maca, Turmeric, Beetroot, Lucuma, plus a pinch of Pink Himalayan Salt. All ingredients I use for my own health.
It was a MIRACLE ! After a few hours Hugo started showing signs of recovery. Day by day he improved. By day 5 he was chasing a ball around the garden again!
I never went back to that Vet moving his healthcare to Holistic Vet and Pet Nutritionist Dr. Elaine Cebuliak. To ensure this would never happen again, l took her advice and guidance on whether my formula was feasible and healthy for long-term use. I then sourced a local lab, which produces human superfood formulas, to start my pet supplement production.
That is the story of how l created PetVim – The world's first and only all natural soluble vitamin supplement for dogs and cats – made entirely from Superfoods
Most Frenchies live to around 10 years. Taking PetVim daily, Hugo lived till he was nearly 15 … an Australian record!
The unique 7 Superfoods in the PetVim formula work together to give your pet essential electrolytes, vitamins, and minerals often missing in commercial pet food.
If you'd like to try PetVim as a nutritional bonus for your healthy pet or to boost an elderly or ailing pet, simply click on the red BUY NOW bar.
Gabrielle Amies, MD & Founder, PETVIM